Design and manufacture of HDD production equipment
Each process of the job is dispatched to most competitive group company
We think that all group companies are one team. We break the job to several processes and dispatch each process to each company who is most competitive on that process.
The process of design, our competitiveness is the know-how on the first look VA and the necessary redundancy.
The process of procurement, each area has specific competitive category of the parts.
The process of assembly and support, both processes will be performed by one company.
The competitive processes for each group company
Name of company
Design
Procurement
assembly
support

Japan team

✓
✓
✓
✓

Taiwan team

 
✓
 
 

Singapore team

✓
✓
✓
✓

Thailand team

✓
✓
✓
✓

China, Shenzhen, team

 
✓
✓
✓

China, Jiangyin, team

 
✓
 
 
HDD automation tools developed to date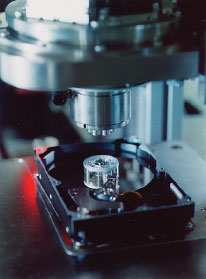 Tool to fix disks to the spindle motor axis using one screw/several screws.
Tool to fix disks to spindle motor axis while centering. /aligning with the spindle motor axis.
Tool to insert disks onto the spindle motor axis.
Tool to assemble the head stack assembly (HSA) and the pivot bearing.
Tool to measure the offset of the head stack assembly (HSA) with the pivot bearing.
Tool to erase magnetic data of disks for mass production.
Tool to read one- and two-dimensional barcodes as parts' data.
Various tools to install components in HDD base casts.
Various measurement devices for testing the performance of completed HDDs.
Key technologies
・Designs to improve product yield.
・Ability to generate mechanical design concepts for shorter takt time.
・Design for contamination control
・Consideration toward ESD.
・Design for shock-free product handling.
・Micron-level movement control technology.
・Control technology for the simultaneous fastening of several screws.
Original standard part
Center compliance unit
We sale the unit as a standard part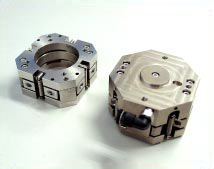 The pick and place of parts requires centering of the grasp mechanism. This unit enables the grasp mechanism to center automatically using minute strength during pick and place, and locks during motion. The unit is used in our company's precision automation tools.
Self-controlled roller conveyor
The feature is to input control data easily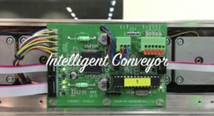 The conveyor controls itself by own CPU. No PLC control is required.
The conveyor can be used for the high precision assembly like HDD assembly.
Click the mark for demonstration video